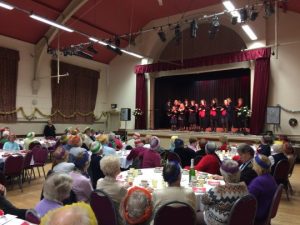 Special party organised by Caistor Cares for town's elderly community
Christmas came early for Caistor's senior citizens as the festive season celebrations got into full swing with a party organised by Caistor Cares – the community volunteering network aimed at reducing social isolation.
Caistor Cares launched earlier this year with a commemorative party for Her Majesty the Queen's 90th birthday celebrations. This latest event, also taking place at Caistor Town Hall, brought together a wide and varied selection of talented performers from the town's active community who gave up their time to enthrall the town's senior residents with a festive-themed programme of entertainment.
Performances included a duet by Pearl McCann and Alice Morton, a ukelele band of children from Caistor Primary School (the Caistor Angels). From the Grammar School, there was a singalong led by Katie and Ellie Robey, three festive favourites by Robert Hewis, followed by a beautiful performance by Caistor Ladies Choir, with a rousing finale by the band The O'Claires.
Commenting on the party, Caistor Cares founder Chris Robey said: "We were pleased to welcome around 100 senior citizens to our first Christmas party. Since our launch in June, we have matched 12 volunteers to members, with regular meetings taking place. We do have more volunteers, trained and checked, and would be pleased to hear from anyone over the age of 60 who is interested in our befriending service."