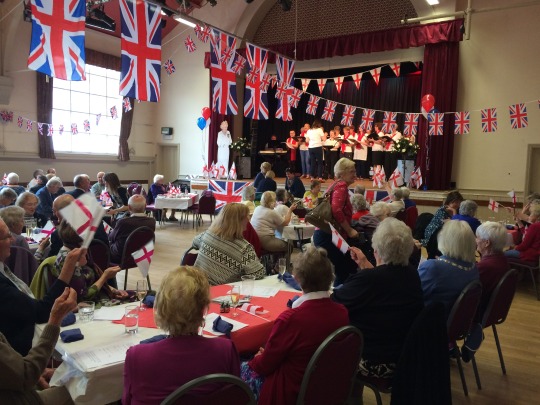 Caistor's senior citizens were treated to afternoon tea and entertainment on Sunday 12 June, at a special party held to celebrate the launch of Caistor Cares – our new community volunteering organisation for the town's elderly residents, aimed at reducing social isolation.
Timed to coincide with Her Majesty the Queen's 90th birthday celebrations, the party at Caistor Town Hall was organised to promote our new befriending service offering friendship and support to older people in Caistor and the surrounding district.
The party brought together many different sections of Caistor's active community, from young to old, to organise a programme of entertainment that included performances by the children of Caistor Primary School, the Encore Dance Academy, a string quartet, entertainer Trevor Cunningham, and an arousing finale and singalong with the Caistor Ladies Choir.
"Our launch party was a huge success and enjoyed by the many senior citizens who came along. There was a real buzz in the air and we had quite a few expressions of interest in our service," said Caistor Cares founder Chris Robey.  "It couldn't have happened without so many people giving up their time to help, but that's Caistor for you. Finally we are up-and-running, and ready to provide a friendly and caring volunteer service to our elderly residents.
"Our befrienders are now in place and we invite contact from anyone that is interested in our free service or knows someone who might be. We can take referrals from friends, family, neighbours, doctors' surgeries, nursing homes and other organisations for our volunteer service, as long as the person in question gives their consent."