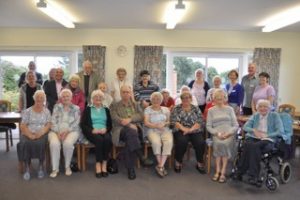 Caistor Cares has launched free coffee mornings every Monday.
The organisation already offers befriending through home visits to a number of people in Caistor but it was felt that a weekly social event would add to this service.
This follows the great success of the parties that the Group has held in the Town Hall. Around 100 people attended each of these which included a tea and entertainment from various local groups.
The first coffee morning on 11th September coincided with a huge rainstorm but a good number of people turned out to enjoy the friendship that was on offer. Chris Robey, Chair of Caistor Cares welcomed everyone to the first event, saying how delighted he was to see so many people there.
The coffee mornings are being held every Monday morning at Drakes Court, next to Southdale flats from 10.00 – 11.00 am. Everyone over 60 is welcome to these drop-in sessions and there is no need to book a place.
Further information is available from Angela Clark on 01472 852749